Welcome to our February Challenge
~~this beautiful mix of Pink and Red bakers twine~~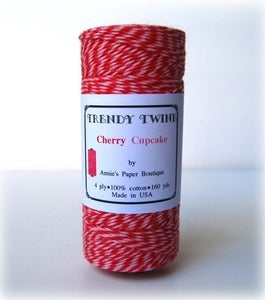 And our challenge for this month is:
"Sweets for My Sweetie"
we want to see your...
~Treat packaging filled with candy or treats
~the colors pink and red
and
~Trendy Twine.
**If you do not have Trendy Twine,
use hemp, jute, or embroidery thread only
(no other brands of bakers twine)**
Or even better yet... head over to the store HERE
~to pick up a roll of Cherry Cupcake~
it's on sale for $7.95 until Valentine's Day
or
~to pick up one of their GREAT starter packs
Trendy Twine ValenTwine Mini Pack
Now onto my project.....
I made a pillow box...my very 1st one using acetate and my cameo!
After cutting out the pillow box and carefully folding the score lines I attached a piece of card stock the the outside. The edge of the card stock on the pillow box was ....blah so I decided to again try something new and sew a trim using some Trendy Twine
Look at how cool it turned out!!!!
Here is a closeup of the sentiment~ from Jaded Blossom's Got Candy set
it goes perfect with the "kiss" I cut out using my cameo.
I wrapped some aluminum foil around it to give it a more realistic look, added some glossy accents to the "chocolate" and tied it all together with some more Trendy Twine :)
I hope you have enjoyed my Valentine's project!!

Now don't forget to check out what the rest of the Design Team has created today
I would LOVE to see you play along in our challenge